SPECIAL FEATURES
Pure white LED


22mm field of view


Two height adjustable settings


Full Koehler illumination


Best features in its price class


Clear Plan Achromatic objectives


Modular


Compact and robust
Introduction: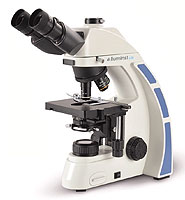 The name of the attractive Llumins 1 microscope is derived from the fact that this microscope is a true one for all laboratory requirements. Compact yet boasting high level specifications such as 22mm field of view, trinocular head , quintuple nose piece, plan achromatic objectives and full Koehler LED illumination. Its ergonomic design is comfortable with two height adjustable settings (high or low) and a diffuser replaces the flip down condenser. It complements your desk and only consumes a mere A4 paper size of desk space. Fully modular to upgrade to disk fluorescence, LED fluorescence as well as polarisation. It's also comes packaged in our one of our most popular bundle deals which includes a camera and c-mount adapter for digital imaging, presentations and general reporting. The llumins1 LED is our best selling and most popular product and can fulfil all the essential requirements of the professional laboratory at a price that suits everybody.
Application:
Most applications from routine to professional laboratory and LED fluorescence microscopy. Presentations, Educational, registrars, general laboratory applications and routine microscopy and digital imaging.
Specifications:
Model

Llumins1 LED

Optical System

Infinity plan achromatic combination or corrected apochromatic

Eyepiece

PL10x/22T FN22mm with individual adjustable focus

Objectives

- OIP Infinity plan achromatic (4x,10x 20x 40x 60x, 50x oil 100x oil)
-Infinity plan semi-apochromatic objectives (4x, 10x, 20x, 40x)

Viewing Head

Standard: 30° inclined Gemel Binocular, with two height settings
Upgrade: 30° inclined Gemel Trinocular, with two height settings
Upgrade: Vertical Incline adjustable head 30° - 60°

Nose Piece

Standard: Revolving quadruple nosepiece (holds 4 objectives)
Upgrade: Revolving quintuple nosepiece (holds 5 objectives)

Stage

150x140mm mechanical stage, move range 76x50mm

Condenser

N.A 1.25 Koehler illuminator condenser, including socket for dark field and phase contrast

Focus

Coaxial focus system with tension adjustable, coarse: 30mm, fine precision: 0.002mm. Movement limitation stopper.

Illuminator

Single high brightness 3W LED with continuous brightness control
Philips 6v/20W halogen bulb with continuous brightness control

Optional extra: Fluorescence LED modules

Single-band LED reflection illumination. Choose one of filter/band options B1/B4/ G1/ V1/ UV1/UV2. Own power input, brightness adjustment with instant switching from brightfield to fluorescence.

Optional Accessories

Polarizer/analyzer, Dark-field, phase contrast, aluminum carry case with wheels, 7 hour battery, 40 hour battery, C-mount connection (1x CTV, 0.5 CTV, 0.35 CTV), photo tube connection (PK mount or MD mount), relay lens.
Llumins 1 Overview: