MAIN SPECS
Compatibility: Windows and Mac (Apple)

Resolution 2048 x 1536

3 Mega Pixels

USB 2

CMOS

C-mount size to use: 1/2 C-mount (0.5)

1/ 2.5" colour Aptina CMOS sensor

Requires PC with 2GB RAM or more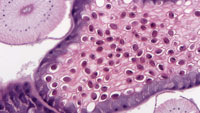 Llumins 3M-eye Camera Overview: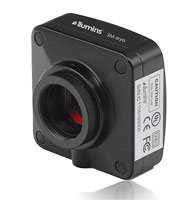 3M-Eye has been developed as a dedicated bright field microscope camera specifically aimed for reporting and every day use and offers a wide spectrum of applications.
Priced as the first truly affordable c-mount camera with arguably the best software in the industry (no software licensing fees) and a wide viewing field, the 3M-eye will be more than adequate to perform all the everyday tasks in the professional laboratory.
Application:
General reporting, training, web and email base imaging, sharing and PowerPoint.
Specifications:
HARDWARE CONFIGURATION

Image Pickup Device

Aptina MT9T001 CMOS(Color)

Scan Mode

Progressive

Max. Resolution

2048 x 1536 (Approx.3,200,000 Pixels)

Sensor Size (Diagonal)

1/2" (6.55mm(H) x 4.92mm(V), Diagonal 8.19mm)

Pixel Size

3.2μm x 3.2μm

G Sensitivity

1.0v/lux-sec(550nm)

Dynamic Range

61dB

A/D Converter

10-bit, 8-bit R.G.B to PC

SN Ratio

43dB

Spectral Range

380-650nm (with IR-cut Filter)l

Video Format & Frame Rate

8fps @2048 x 1536, 22fps @1024 x 768, 43fps @680 x 510

Binning

1 x 1, 2 x 2, 3 x 3

Exposure

0.128ms~2000ms, ROI Auto & Manual

White Balance

ROI White Balance/ Manual Temp Tint Adjustment

Color Rendering Technique

Ultra-Fine™ Color Engine

Capture/Control API

Native C/C++, C#, DirectShow, Twain and Labview

Recording System

Still Picture and Movie

Cooling System*

Natural
OPERATING ENVIRONMENT

Operating Temperature

-10°C ~ 50°C

Storage Temperature

-20°C ~ 60°C

Operating Humidity

30~80%RH

Storage Humidity

10~60%RH

Power Supply

DC 5V over PC USB Port
SOFTWARE ENVIRONMENT

Operating System

Microsoft® Windows® XP / Vista / 7 / 8 (32 & 64 bit)
OS X (Mac OS X)
Linux Appple MA

PC Requirements

CPU: Equal to Intel Core2 2.8GHz or Higher
Memory: 2GB or More
USB Port: USB2.0 High-speed Port
Display: 17" or Larger
CD-ROM